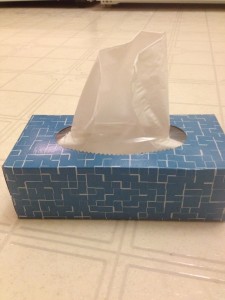 I used to be sublimely healthy. And like those who rarely get colds or flus, blithely smug. I would dance through November, with the odd cold but nothing that really warranted any kind of intervention. I was sympathetic to my colleagues who got sick, making them tea and doing runs for cough drops, but it was sympathy, not empathy. No flu sick days for this girl, no sir. Lots of veggies, daily multivitamins, and exercise fairly regularly…a regular textbook case of glowing, gleaming, healthy health.. (I know. I can hear someone in the back retching a little bit. Don't worry. Comeuppance approacheth).
And then we had our first baby. And now I sit here, coughing like a ten year smoker and sounding like Burl Ives. I spent the holiday weekend sick. Kleenex is making a record profit from my nose. And not much has changed…the veggies, exercise and vitamins are a regular part of the routine. The X factor is Baby K. Or Toddler K, now, I guess.
See, here's the thing. Babies and toddlers are superior incubators of disease…adults, generally speaking, don't tend to put their fingers in your mouth. Or wipe their hands on your shirt. Or throw up on you (most of the time, bar stars notwithstanding). Suddenly, all of these things are your new normal. And when your little angel gets sick, it becomes practically impossible to not get it. And then they go to daycare or school or play group and they sit around in a circle with their tiny buddies in their dinosaur boots and their Winnie-the-Pooh hoodies, plotting for cookies and scheming to swap cooties to bring home to loving, well-meaning Moms and Dads everywhere.
So now I'm that colleague that I used to sympathise with but roll my eyes slightly about.
Anyone have any suggestions on how to quell the stem of child-spread disease around the house, other than the obvious? Send them my way!
In the meantime…excuse me. I'm out of Kleenex.