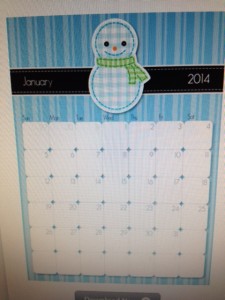 1. Settling back into some kind of routine.
With Christmas comes parties, glitter, presents, carols and generalized throwing out of the status quo and regular routine. This is exciting but EXHAUSTING, particularly if you're a parent. The onset of January is a relief in some ways – while I miss turning the Christmas tree lights on every morning, a part of me breathed a huge sign of relief to have everything back in its place again.
2. Sales! Sales! Sales!
If there are things you wanted for Christmas (or didn't realize that you wanted), and have been a diligent saver, this is your time to indulge. I tend to save a little bit a month for a modest shopping spree in January. Everything is marked down as retailers try to make some sales in what is otherwise a dreary financial month.
3. A fresh start.
Anne of Green Gables once noted that each day is a new one, with no mistakes in it yet! This goes doubly for a new year – it's the ideal time to reinvent yourself. Want to become a pilates-doing, lasagna cooking super Martha? Somehow it's easier to start that in January than August.
4. The days have officially started getting longer.
If you cringe at the 'dark when you get to work and dark when you leave' situation that December brings, rest assured that it's improving. By March, you'll have light at both ends, and it's probably (hopefully!) no longer dark when you head home.
5. Valentine's Day and Family Day.
I'm in BC, which has a new February holiday…the prospect of a long weekend can lift even the dimmest of spirits. And chocolate and pink sparklies everywhere. Regardless of whether you're single or coupled, the themey-ness is awesome.
6. A new set of benefit and vacation allowances!
Just the prospect of vacation in the future can make you feel better – whether you're staying home or going somewhere glam, you have a brand new year of time to spend doing what you choose with it. Please note that you should use it! Don't be one of those statistics that baffles me about people who don't take their time off. WHY, people, WHY? You'll never sit down in twenty years and regret working less, let me assure you.
The other bonus is a new set of benefit allowances – see my post here on the benefit of benefits.
7. Your favourite TV show is back from the holiday hiatus.
And if you're madly ensconced in Downton Abbey or Parenthood – that's good news!
8. Comfort food.
Soup and stew and warm solid foods are what the winter is all about. One of the best things on a January night is to come home to a crockpot full of bubbling hot chili and some cheesy bread to go alongside it.
So next time you're grumbling about winter, it's not all bad. And those blustery nights are awesome for a book and a mug of cocoa.