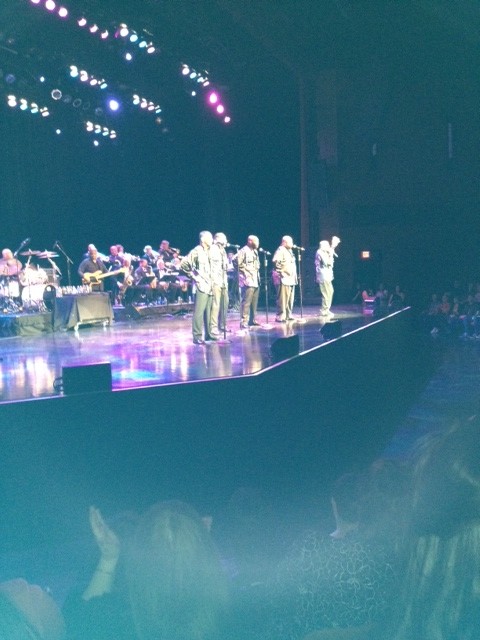 You end up having realizations in the oddest places and times. I found myself sitting in a crowd of much older concert goers, looking forward to seeing the Temptations. The actual Temptations, circa 1960, of 'My Girl' and 'Papa Was a Rolling Stone' fame (although only one of the original Temptations remains in the group).
The concert itself was fantastic – for being 60-some-odd, those guys can MOVE. Loved the sparkly jackets, loved the energy…and it got me to thinking about the differences in performances from old-time stars versus the newer crowd of music groups.
A couple of positive observations on an old school performance…
1) The show started on time. At 8pm. On the dot. Which I loved – concerts that start at 7 and the main event doesn't come on until 9 are incredibly irritating. Being punctual is respectful to your fans, and makes for a less annoyed audience.
2) There was a full band, in formalwear. It lent a certain elegance to the show that a lot of current performers lack.
3) It was in a smaller venue, the River Rock Show Theatre.  There was a sense of closeness and being part of something that is harder to emulate in a huge arena such as BC Place. We had fourth row tickets, which put us right in the action, but even shows I've seen in seats that are towards the back have great acoustics and views.
4) The energy! The Temptations *love* what they do, and it shows! They're there for love of the music and love of sharing their own love, and it comes across. When I went to a Britney Spears concert, I found myself restless and disinterested – she seemed bored, and so the audience didn't engage with her. These guys are ON, from start to finish, sparkly coats, dancing, and taking turns sharing the spotlight.
5) They finished with their biggest hit ('My Girl'), left the audience dancing in their seats, bowed, and were gone. There was no sitting around waiting until enough noise had been made for the star to come on and deign to do an encore. I loved that they gave their all, and left everyone happy.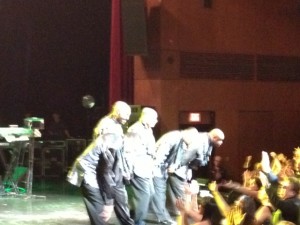 Somehow, even without the wacky special effects, with no cars coming from the roof of the stadium or costume changes, with no glitter or confetti, they gave an amazing performance that I'll remember as an epic moment.  The power of talent and enthusiasm won, hands down, over the glitzy costume changes and huge crowds of a modern group. I'll take an old school show at the River Rock over the latest star at BC Place – no question! Now if only Frankie Valli and the Four Seasons hadn't been sold out…(SIGH).