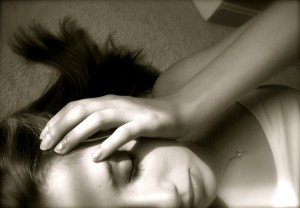 When I was younger, I used to what if with the 'rather' game, for things that I would love to do but appeared impossible.  Would I rather go to France or Greece? Beautiful or brilliant? Would I rather have perfect vision or no migraines? Upon reflection of the latter, I think I would rather have no migraines and retain my (admittedly crummy) vision.
People who don't get migraines think of them as 'just headaches' but a little more severe. Something where you can pop an Advil or two and then resume your regularly scheduled activities. Everyone gets headaches…but not everyone gets migraines.
A migraine starts out with an aura period, which differs for everyone, but for me is heightened sensory awareness (and NOT in a good way!). Bright lights are painfully bright, and I'll often have to wear my sunglasses in the house. Loud sharp sounds are excruciating and almost like a physical blow (this also explains my deep and abiding dislike for small yappy dogs). My face gets really hot and my hands and feet go icy. I get incredibly nauseous, and one side of my head starts to throb. Hard. Which side it is varies, but if you could split it in half, I envision half of my head as normal and the other half as a red, angry, throbbing painful mess.
Prior to the wonder of beta-blocking medication, I would curl up in the darkest place I could find, with a cold wet washcloth on my forehead, and alternately shake and throw up for the next eight hours. One of my apartments had stark, glowing white walls from top to bottom. I used to sit in the bathtub on a sleeping bag because it was the only pitch black spot. I used to call it my Batcave. Eventually, I would fall asleep and wake up exhausted, weak and shaky, seven or eight hours later.
I've had them ever since I was little – I remember being three or four and curled up in a ball, wishing I could just chop off that side of my head because the other one was fine. And this would be a regular process, once or twice a week, practically every week.
What causes them? Triggers vary from person to person. Mine include too much caffeine, too little caffeine (yes, I *do* see the irony), too much sugar, skipping meals, weather changes, hormonal fluctuations, eggplant skin (I know. The weird continue), olives, and a variety of other randomness. Some sad folks have triggers which include dark chocolate and red wine. Le sigh.
How do you manage like this? You just do. You keep airplane throw-up bags in the glove compartment so that you can pull over, throw up, and keep driving. You learn that when the aura hits, you have about 45 minutes to finish whatever you're doing before you get hit by the migraine train. You go out, even though you want to curl up in a hole, because you know that you'll be in the same state wherever you are, so you may as well be with friends as not. And you get so used to throwing up that you'll wonder why other people get so upset about it when it happens to them.
Now, the wonders of modern medicine give me a plain, white, $18 pill, which (9 times out of 10) turns it off like water from a tap. I don't love that I'm dependent on it. I don't love that there are weeks when I take 3 within four days. But I do love that I can actually make plans and know that I'll enjoy them.
So a shout out to modern medicine! And for my fellow migraine sufferers – I understand your pain. Literally.
Photo Credit: Avenue G Used under a Creative Commons Licence