(note that the clover is three and not four)
We've kind of had a string of unfortunate events around here. We had to get the roof fixed (at an astronomical cost), to find out the rafters were rotted (adding to astronomical cost). I made a poor furniture moving decision and my right wrist was completely out of commission for a week, which is a huge issue when you have a computer job as well as a 25 pound toddler who isn't docile about diaper changes. Things at work have been less than fantastic, my purse got stolen, necessitating a huge hassle of getting new ID and rekeying the car and house, etc etc.
All of this has led me to think about luck. People have always told me that I'm naturally lucky. And generally speaking, things do tend to turn out the way I want them to. How much of that is luck and how much of that has its basis in personality traits?
So how does this run of bad luck play into all of this? How have I managed to keep from having a 'my luck is so bad' breakdown? I tend to reframe a lot…the thief took my purse, but we managed to get our locks changed before they used the housekeys. I had enough ID in a different location to replace my ID and the baby's ID. We paid a zillion dollars for our new roof, but it was in time for the CRAZY torrential rain that we're getting right now, so we prevented a house leak, which would have been disasterous and far more financially damaging. My wrist was functional again after a week of not being able to use it AT ALL (which was maddening), but I managed through a combination of daycare and help from family and friends. SO yeah. All about the silver linings over here.
I'm of the opinion that luck is preparation meeting opportunity. Opportunity often knocks softly, so I take a lot of calculated risks, and I'm always looking for new and interesting things. I'll throw an application in for a job that I don't have all of the exact qualifications for, just in case they end up needed to go a little further afield. I enter every contest I see – someone has to be the winner, and at least I'm in the running. I volunteer to help in random situations, have a variety of weird hobbies, and am very good at staying in touch.  I'm always open to meeting new people and making new friends. This is both endearing and maddening, depending on your viewpoint. I 'adopt' people who are new in town and introduce them to my friends, because I've been in places where I knew noone, and know how much a friendly face to contact 'just in case' is worth. I've also, however, been known to bring a random new person I met on Skytrain to a birthday party at a pub, which might verge on the slightly weird. I meet a lot of people and keep in touch , so have a larger social circle than most. This, in turn, means that when I post about looking for something or wanting to get in touch with someone in a given field, a much bigger and more varied batch of people respond, and I tend to find a way to acheive my outcome  How much of that is 'luck' and how much of it is personality and knowing a lot of folks?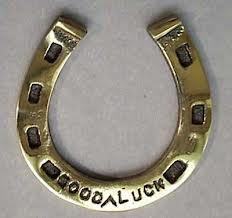 I do win. A LOT. But I enter 70 contests a day, every day. So with an average of 2100 contests a month, it seems realistic that I would win fairly often. Is that actual luck, or just opening myself up to lots of opportunities for luck?
Genuinely going into a situation expecting the best result has also always been something I do…and I think that because I tend to be pretty open minded going in, I don't start out defensive and negative, which has better results. There's an old proverb somewhere about how you get the behaviour you expect. I expect good things and tend to get them, but whether that's due to my expectations or not is hard to quantify.
And then there are lucky charms…
I don't have one in particular, but research has shown that lucky charms do work, in a placebo kind of way. Believing that you're lucky (due to your four leaf clover or what-have-you) makes you happier and more optimistic, which makes you more aware of new possibilities and more likely to act on information when you come across it. So while that stuffed bunny may not be lucky in and of itself, it could genuinely cause you to have better results.
In a completely and delightfully ego-centric way, I also consider the new year beginning on my birthday…so in my world, the year resets at the end of June. And a brand new year is going to be lucky!
In summary:
*believe that the outcome will be how you want it
*meet lots of people and have a large social network
*do what you can to help other people, just because it's a nice thing to do.
*find the positive, even if it takes some looking
*say yes instead of no every once in awhile … it can lead you to some interesting places.
*open yourself to opportunities
What's your take on luck, readers? Are some people just 'luckier' than others, or do they have personality traits or habits that make things go their way?
Some interesting articles about luck:
http://www.pickthebrain.com/blog/7-ways-to-make-your-own-good-luck/
http://www.rd.com/advice/how-to-get-lucky/
http://www.qimacros.com/lean-six-sigma-blog/how-to-increase-your-luck/
http://www.psychologytoday.com/blog/the-science-luck/201301/how-increase-your-luck-qa-frans-johansson
http://www.howtodesign.com.au/uncategorized/does-being-present-in-the-moment-increase-your-luck-factor/
http://www.earlytorise.com/3-simple-strategies-for-increasing-your-luck/