I'm all about finding things for a lower price, although I have some parameters – I try to buy Canadian or in Canada as much as possible, and quality is a large factor. There are a few items, though, where I recognize that you should buy the absolute best you can afford. These are items where you know you're going to use them regularly, they will genuinely make your day better, and you'll have then for a fairly long time.
1) Bedding.
You are going to be sleeping for (roughly) 7-9 hours a night. Every night. For the next who-knows-how-many years. That works out to 56 hours a week on average, roughly 5912 hours a year. Good sheets matter. Make your bed into a sanctuary where you can climb into cool, comfortable sheets and let the worries of the day slide off you and go to Snooze Land. Get the best mattress you can afford. A good night's sleep impacts your general day to day mood and energy level in a way that very few other things do. Make it as good as you can.
2) Shoes.
Want to forget any problems on your mind? Go for a walk in uncomfortable shoes. Enough said.
3) Skin care that you genuinely like, with SPF.
Take care of your skin now. Start wearing SPF as soon as possible, day in, day out, and your lack of wrinkles later will be the result. If you like the texture, smell and consistency of your moisturizer, you'll be much more likely to use it.
4) Health treatments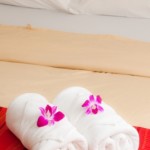 Spa days, massages and general physical wellness activities will make you feel better and be a better use of dollars than new clothes or yet another batch of DVDs. Torn between a shopping trip or a spa day? Research shows that the spa day will make you happier for longer than the 'buyer's high' that comes with a spending splurge.
5) Quality tea and coffee.
Unless you're far more awake than I first thing in the morning (which with the baby has gotten MUCH earlier than before), one of the starts to your day is some kind of caffeinated beverage. Be nice to yourself first thing and start your day off well. Choose tea or coffee that you genuinely enjoy drinking – it will start your day on a much nicer note!
What would you add to the list? What's worth the money?